From Tokyo Chutei Iki to British and Spanish baritone saxophone players.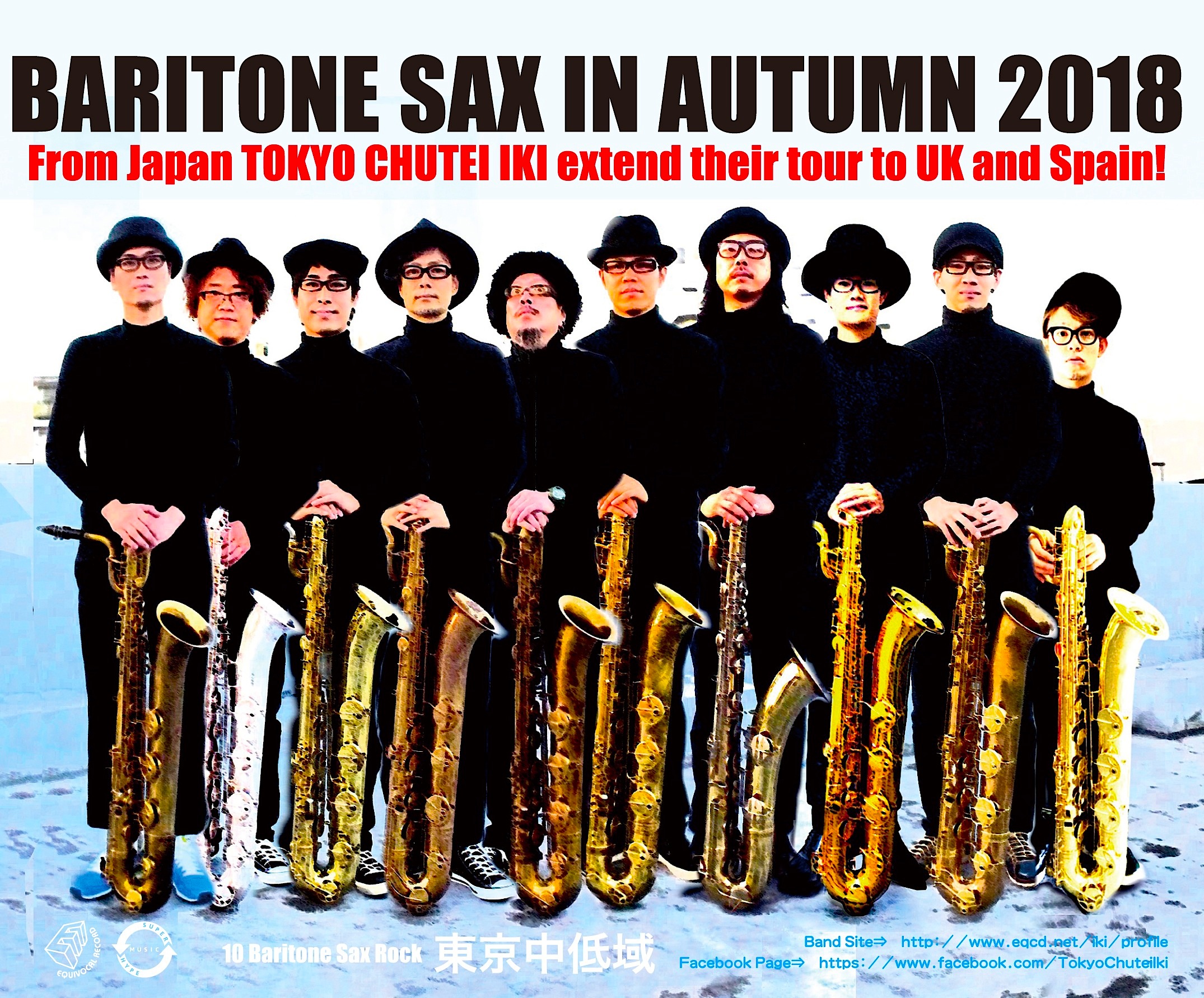 Tokyo CHUTEI IKI
"Tokyo Chutei Iki" is formed with 10 baritone-saxophone players without any other instruments even drums and bass. We use only human voices and baritone saxophones.
We are organized in early 2000, and we released 7 original albums and 3 DVDs in japan. Our music is very unique that cannot be classified in particular genres such as jazz, classic, rock, etc..
to British baritone saxophone players.
Tokyo Chutei Iki are going to visit and perform in London and Madrid this autumn. We will hold some concerts in London from 18th to 21st of November, and in Madrid from 23rd to 25th of November. The details of our schedule will be announced here soon.
While we are in London and Madrid, we would like to take the opportunity to meet and communicate with local baritone saxophone players. And if possible, we would like to have a session with you, even if it is just a very little one.
If you are interested, please contact us via messenger of our Facebook page. (Sorry, Spanish language is very difficult for us, so please contact us in Japanese or English.)
We look forward to hearing from you!
Thank you very much.
Akira Mizutani (Tokyo Chutei Iki)
 
a saxofonista barítonos españolas.
Tokyo-Chutei-Iki vamos a visitar y actuar en Londres y Madrid este otoño.
Tenemos algunos conciertos en Londres desde el 18 al 23 de noviembre y en Madrid desde el 23 al 25 de noviembre. Los detalles de nuestro horario os los anunciaremos aquí pronto.
Mientras nosotros estemos en Londres y Madrid nos gustaría tener la oportunidad de conocer y de poder comunicarnos con saxofonista barítonos locales. Y si fuera posible, nos gustaría tener una sesión contigo, incluso si fuera poco tiempo.
Si tú estás interesado, por favor mándenos un mensaje a través de Messenger de Facebook. (Disculpe, el idioma español es muy difícil para nosotros, así que contáctenos en japonés o inglés)
Esperamos noticias tuyas pronto!
Muchas gracias.
Akira Mizutani (Tokyo Chutei Iki)